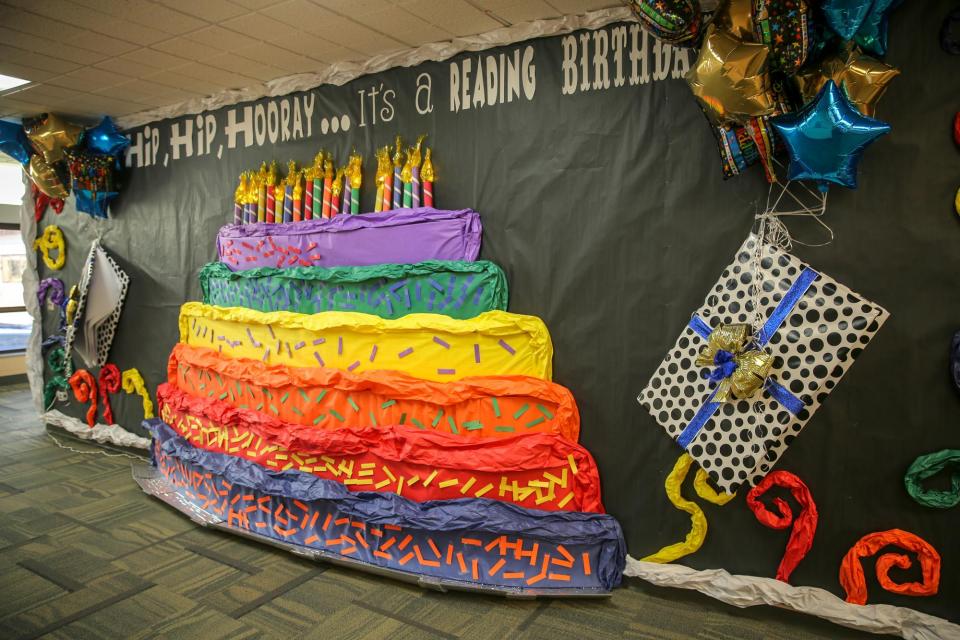 Each February we challenge our student body to read for 1,000,000 minutes— a goal we've met every year! This year our "I Love to Read" wall is a GIANT birthday cake, in honor of our school's 20th anniversary!
Students track their individual reading progress throughout the week. For every 600 minutes that the class reads collectively, the get to place a "sprinkle" on the cake. Each Friday, classes place the "sprinkles" they've earned on the cake. 
The cake has six colored layers representing each grade with kindergarten on top and fifth grade on the bottom.
If we hit our goal of one million minutes, the entire school will celebrate with a birthday bash!
We need to give a special thanks to Allison Adams, a former Northpoint parent who continues to volunteer at our school and is the creator of the "I Love to Read Birthday Wall."
To download high resolution jpg files from the photo gallery below, just simply click the "DOWNLOAD" button on the bottom right-hand corner of the photo while viewing it in the Photo Gallery function. We are happy to provide this service to you free of charge.